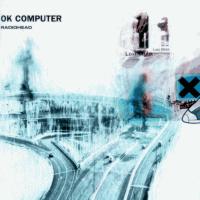 Uno de los mejores albums de toda la historia de la música. "OK Computer" es el tercer álbum de estudio de este grupo musical . El álbum fue lanzado inicialmente el 16 de junio de 1997 (en el Reino Unido), por medio de la compañía discográfica Parlophone.
El álbum fue un éxito comercial, lo que se tradujo en un enorme crecimiento de la popularidad del grupo a nivel mundial, marcando el ingreso de Radiohead en el mercado estadounidense, donde debutó en la 21ª posición. Debido a su inesperada popularidad, OK Computer se convirtió en el último álbum de Radiohead con lanzamiento diferido fuera del Reino Unido. Hasta enero de 2007, OK Computer ha sido certificado con doble disco de platino en Estados Unidos y triple disco de platino en el Reino Unido.
Para algunos expertos y críticos musicales y para mí puede que este sea uno de los mejores álbumes después de Sgt. Pepper's Lonely Hearts Club Band de The Beatles, en cuanto a cambio se refiere, ya que ambos fueron intensas transiciones de un estilo musical a otro más puro y maduro.
Aquí les dejó el video de "Paranoid Android"
Todas las canciones fueron escritas por Thom Yorke, Jonny Greenwood, Phil Selway, Ed O'Brien y Colin Greenwood.
"Airbag" – 4:44
"Paranoid Android" – 6:23
"Subterranean Homesick Alien" – 4:27
"Exit Music (For a Film)" – 4:24
"Let Down" – 4:59
"Karma Police" – 4:22
"Fitter Happier" – 1:57
"Electioneering" – 3:51
"Climbing Up the Walls" – 4:45
"No Surprises" – 3:49
"Lucky" – 4:20
"The Tourist" – 5:25
Cuale es tu album favorito o el mejor de la historia? Espero tus ocmentarios!