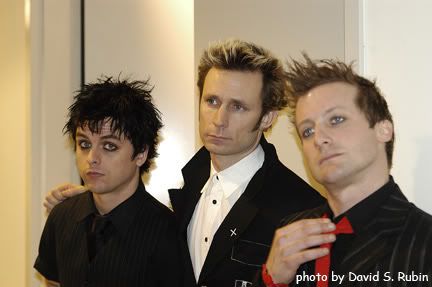 La agrupación norteamericana Green Day ya se encuentra en nuestra ciudad para teñir de verde todo Lima.
Billie Joe Armstrong, Tré Cool y Mike Dirnt arribaron al promediar las 4:00 am en su jet privado, según informó People & Music, productora encargada del concierto.
Añadieron también que Cool, bajista del grupo, ofreció una muestra de cariño a sus fans, acercándose para tomarse algunas fotos con ellos.
También se supo que llegaron acompañados de 60 personas con quienes se hospedarán en el Swissotel, según informa la prensa nacional.
Green Day llega a Lima luego de sorprenden a Chile con un espectacular concierto antes 25 mil personas, en la que cantaron 35 canciones entre las que figuran 'Song of the Century', 'Know Your Enemy', 'East Jesus Nowhere', entre otras.